Events
HAPPY HOURS MIXERS ROULETTE WITH MASIS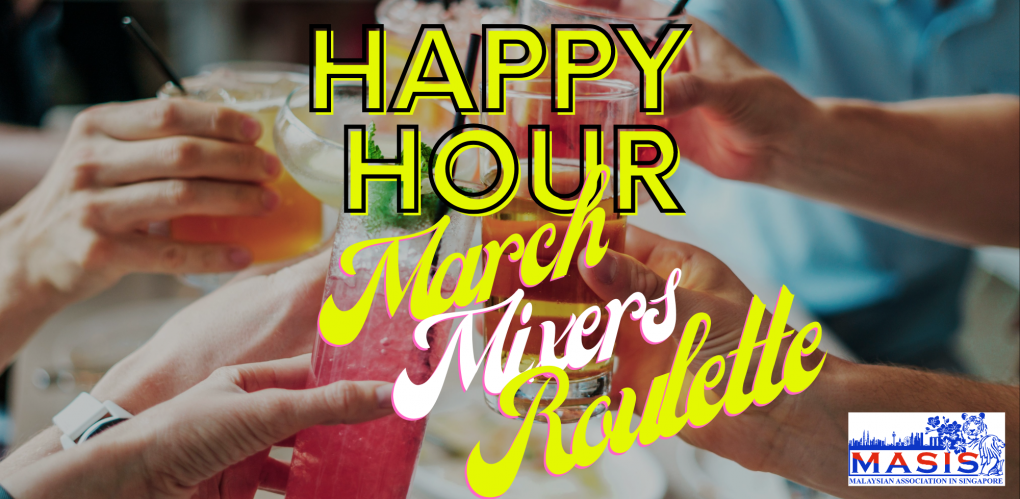 Happy Hours MIXERS ROULETTE with MASIS

Are you ready for MASIS first mixers for year 2021? Yes, you heard us right, Masis Mixers is back !

We have reserved 3 bars in different locations for the evening, limiting to 8 per table. You will be pleasantly surprised to know who are the other folks joining at your table. If any of the 3 bars below is to your liking, please click ONE only to register ! No walk-Ins allowed, strictly by reservation through the peatix link in order to adhere to SDM rules.

Date: 30 March 2021
Day: Tuesday
Time: 7pm-9pm
MASIS Members: FREE *
Non-members: $15 *
* includes one first drink and light snacks
** special discounts applicable for masis members only, for subsequent food and drinks (up to 20% off menu price, please check further details with the Committee members joining you for the night)

1. The BRAKE KITCHEN
Location: one-North
Venue: #01-12 Fusionopolis Walk, Solaris, Singapore 138628
Register now at http://masismixersmarch21-1.peatix.com/

2. TAP Craft Beer Bar @ 9 Penang Road
Location: Dhoby Ghaut
Venue: 9 Penang Rd, 01-08/09, Singapore 238459
Register now at
http://masismixersmarch21-2.peatix.com/

3. TAP Craft Beer Bar @ One Raffles Link
Location: City Hall
Venue: 1 Raffles Link, #01-02, Singapore 039393
Register now at
http://masismixersmarch21-3.peatix.com

We are absolutely thrilled and looking forward to see you at MASIS MIXERS ROULETTE 2021!