Events
World Day For Cultural Diversity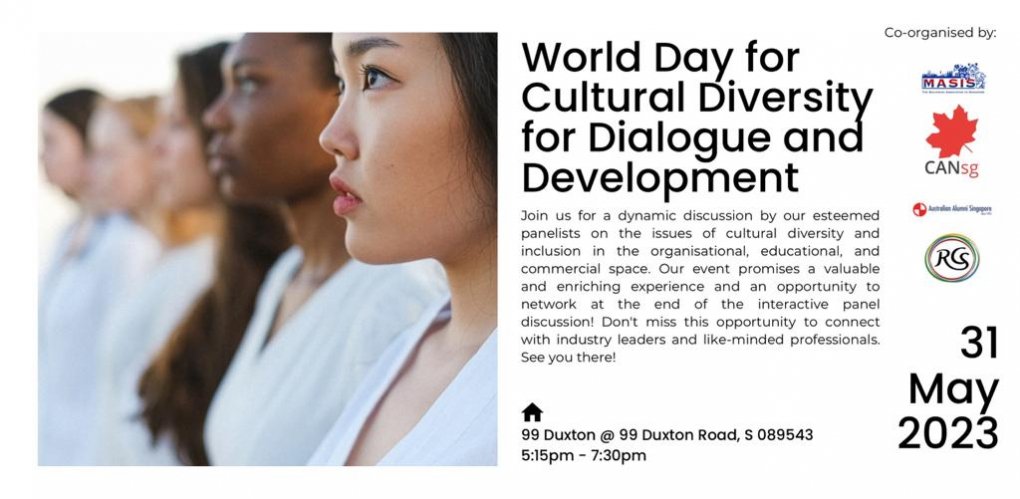 Join us for a dynamic discussion by our esteemed panelists on issues of cultural diversity and inclusion in the organisational, educational, and commercial space. Our event promises a valuable and enriching experience and great opportunity to network at the end of this interactive panel discussion! Don't miss this opportunity to connect with industry leaders and like minded professionals.

See you there!

Details:
Date - Wednesday 31 May 2023
Time - 5 pm to 7.30 pm
Venue - Co.@Duxton, 99, Duxton Road, (S) 089543
Who should join?
Anyone open to sharing, curious to learn, and eager to meet new people.

Moderator: Jacqueline Low
Jacqueline Low is an inspiring community leader with Women of Courage Asia and a qualified chartered secretary. With over 20 years of experience in the region, she has assisted and advised numerous corporates and business clients in understanding statutory and regulatory requirements, as well as corporate services. Jacqueline is a successful entrepreneur, strong communicator, and visionary leader with exceptional cross-functional team management skills. She holds an MBA from De Monfort University.

Panelist: Leong Soo Yee
Leong Soo Yee is a C-level business executive, ICF ACC & Certified Transformational Master Coach. With extensive experience in business management and leadership development across Asia, Europe, and the Middle East, Soo Yee is passionate about building and strengthening long-term relationships. She spearheads innovation and transformation, using a transformative coaching approach rooted in design thinking.

Panelist: Rahman Lal
Rahman Lal is a veteran in the hospitality industry with over 38 years of senior management experience at leading global hotel groups in the region. His expertise extends to various countries, including China, Maldives, Myanmar, and managing Facebook's F&B operations in 15 cities across APAC. Rahman is known for his industry-leading workplace experiences in the F&B hospitality space.

Panelist: Edwina Lim
Edwina Lim strongly believes in education as a social leveller. She actively builds meaningful relationships and partnerships to create life-changing opportunities for deserving beneficiaries through their education journeys and adventures. With skills in talent development, B2B marketing, CRM, event management, fundraising, and public relations, Edwina currently serves as the Associate Director at the National University of Singapore.

Panelist: Hosea Lai
Hosea Lai is a highly passionate and people-centric individual who leaves a positive impact wherever he goes. His experience spans disaster response, management development, non-profit organizations, and corporate social responsibility. Hosea is a humble leader and a strong advocate for diversity and inclusion. He believes in talent first and constantly seeks ways to give back and help others.

Panelist: Shamila Nair
Shamila Nair is a trilingual advocate and solicitor by profession. In addition to her legal expertise, she is a crowned beauty queen, talented singer, and skilled painter. Sharmila has achieved multiple successes assisting MNCs and SMEs in APAC and EMEA in various areas of law. As the President of the Malaysian Association in Singapore, she promotes engagement and collaboration between corporations, government bodies, and the Malaysian community.
Register at https://masisworldday4culturaldiversity.peatix.com/