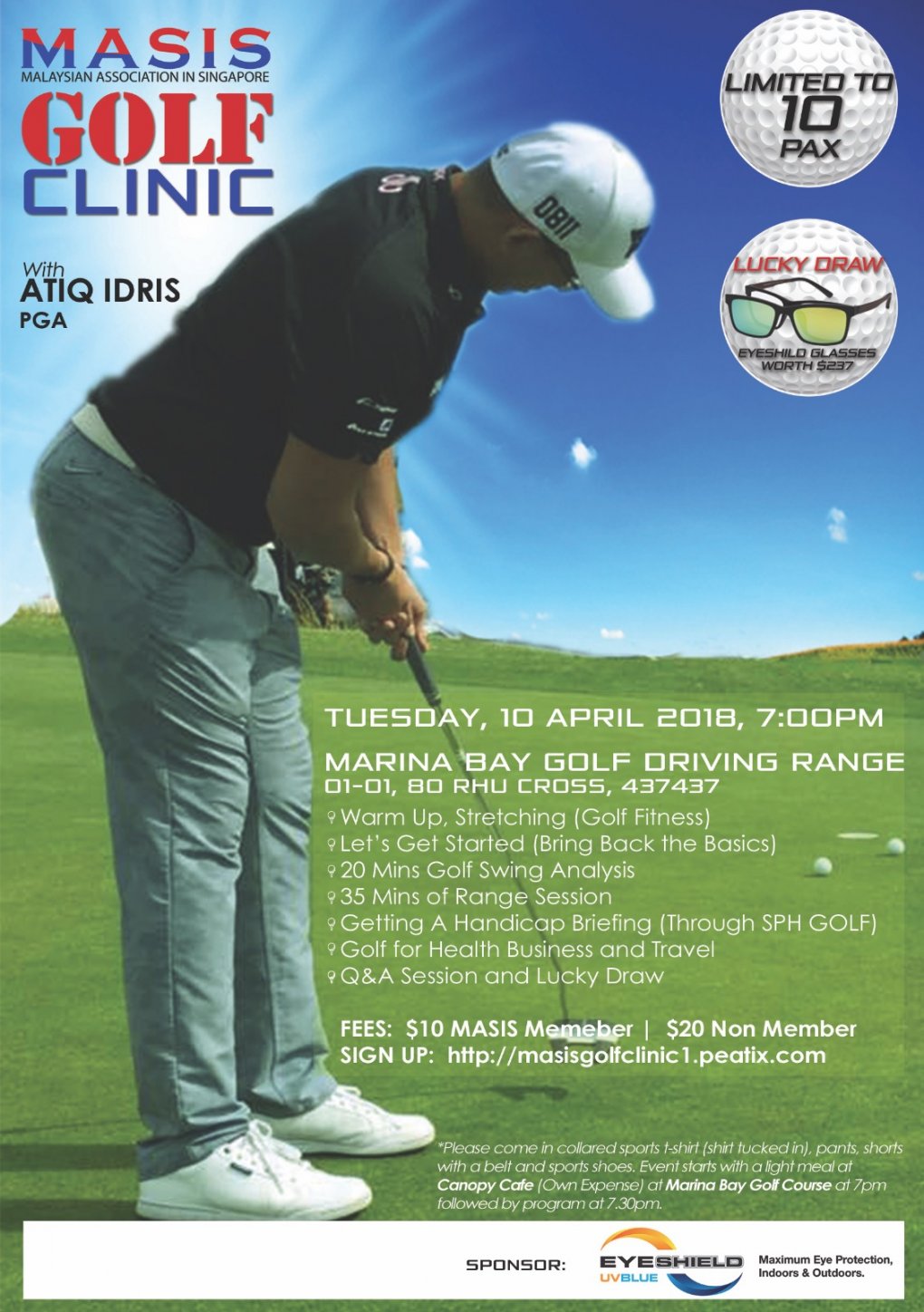 Have your golf clubs been sitting in the store room collecting dust?
Are you looking at ways to perfect your swing?
Are you possibly new to the Red Dot, and require an official handicap card?
Join us for the first of many Golf Clinics organized by the Malaysian Association of Singapore (MASIS). We are delighted to learn that one of our members is a Professional Golfer and he has kindly volunteered to help you up your skills for your next game.
Date: Tuesday, 10th April 2018
Time: 7.00pm*
Venue: Marina Bay Golf Course
Cost: $10 MASIS Member | $20 Non Member
Reserve your spot here: http://masisgolfclinic1.peatix.com
*Event starts with a light meal at Canopy Cafe (Own Expense) at Marina Bay Golf Course at 7pm followed by program at 7.30pm.
What to expect:
Warm Up, Stretching (Golf Fitness)
Let's Get Started (Bring Back the Basics)
20 Mins Golf Swing Analysis
35 Mins of Range Session (A Bucket of Balls Provided)
Getting A Handicap Briefing (Through SPH GOLF)
Golf for Health, Business and Travel
Q&A Session and Lucky Draw
What to Wear:
Please come in collared sports t-shirt (shirt tucked in), pants, shorts with a belt and sports shoes.
Who is Atiq Idris:
At a very young age, Atiq was exposed to the game by his father when the family was living in Sydney. When the family returned back to Malaysia in the mid 90s, he started competing in both local and international tournaments such as the MSSM, SUKMA and Amateur Tournaments.
In 2012, he turned professional and started to play on the local tour and followed the ASEAN Development Tour events. After a year of touring, he decided to finish his studies which led him to land his first job in the real estate industry. The role did him well, however it was golf that brought him across the causeway to Singapore to work with an international golf company.
"Golf not only is meant to be played on tour but it can also lead to golf coaching, retail, golf fitness, golf events management, golf tourism and much more. Golf is one sport that can also help develop the individual to be more courteous, learn to play by the rules and keep a positive attitude in any career or business," he said.
Eventhough right now Atiq is in the financial services industry, nothing will stop him from keeping his golf game in tact and regularly practicing or playing when time permits and share this great game with anyone that he cross paths with.