Events
MALAYSIA DIGITAL ECONOMY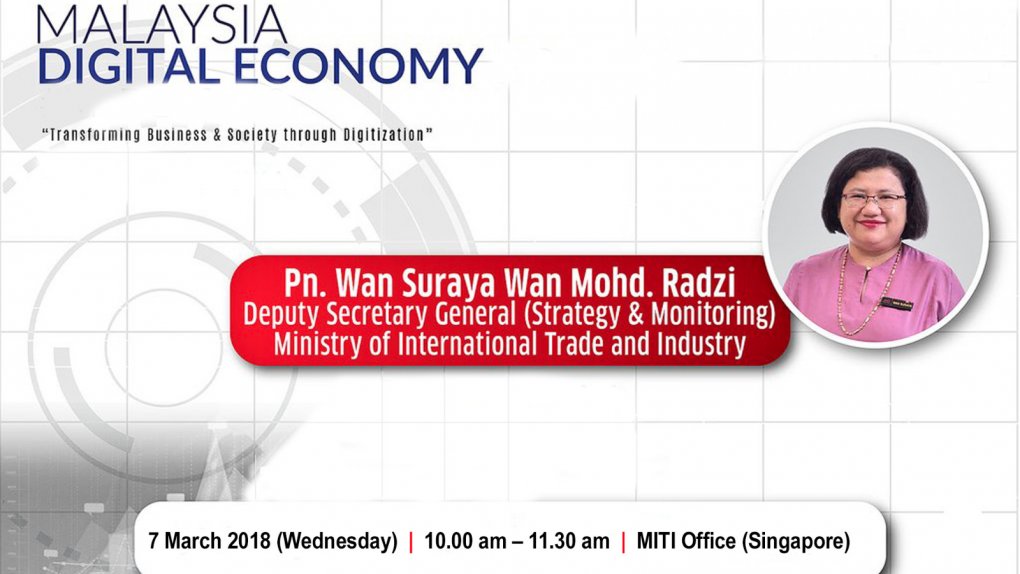 This session will uncover some of the "Initiatives taken by Malaysia to promote the growth of the digital economy". The session is hosted by Wan Suraya Wan Mohd Radzi, Deputy Secretary General (Strategy & Monitoring), Ministry of International Trade and Industry (MITI)

The session will also include a small networking reception to allow guests to interact with Wan Suraya and other specially invited guests.

Details about the Speakers:
Ms. Wan Suraya served as Minister Counselor at Malaysian Trade Commissioner in Singapore for 5 years, from 2009 until 2014.
Date: 7 March 2018 (Wednesday)
Time: 10.00 am – 11.30 am
Venue: 80 Robinson Road #01-02 Singapore 068898

If you would be keen to attend this talk please register your interest by dropping an email to Shohaida at masisorg@gmail.com. Please note that registration is on a first come first served basis (closing date 5 March). Register now to avoid disappointment.