Events
Jumpstart Your Journey To An Agile Workplace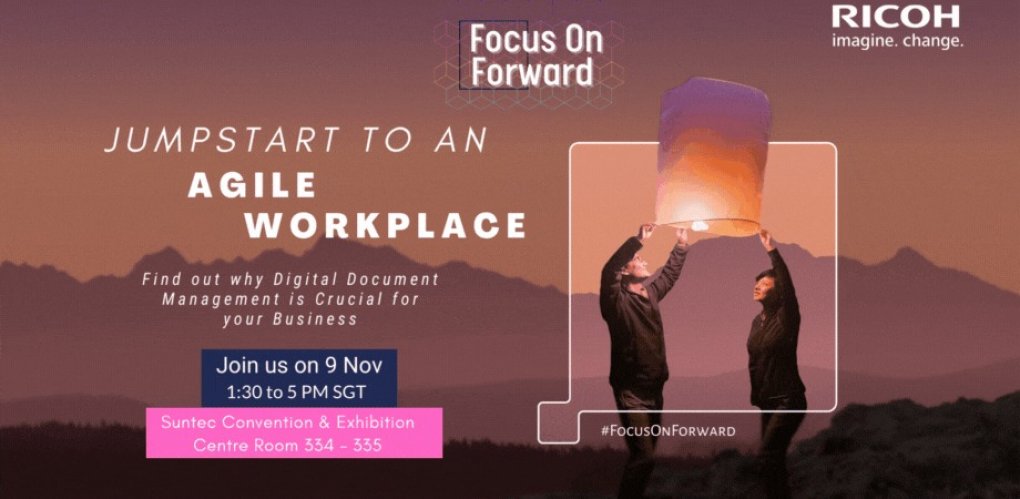 Workstyles have evolved with the pandemic and our workplaces and processes need to keep up with the evolution. Many businesses are facing challenges in the reconfiguration of the workplaces to meet the new hybrid work mode, struggling to find ways to improve operating efficiency and maximise resources to increase productivity. Learn how you can drive workplace productivity through technology & how you can transform your workplace to be ready for the future of work and enable your employees and operations to be more productive in the most cost-effective way.
Ricoh brings you the technological know-how to integrate technologies and processes, powered by our expertise in complementing hybrid workstyles, facilitating seamless hybrid meetings and agile configurations in your workplaces, while ensuring a high level of data and information security through our workplace services and consultancy expertise.
Jumpstart to an Agile Digital Workplace with us, held at Suntec Convention Centre on the 9th of November 2022. Don't miss this opportunity to take away some successful good practices and case studies on hybrid workplace and process automation, and how the latest solutions and technologies will support you to achieve your corporate objectives.
Details:
• Date: 9th November 2022
• Time: 1.30 -5.00PM
• Venue: Suntec Convention & Exhibition Centre Room 334 - 335
Register at: https://ricohevent.peatix.com
For more information on the event click here: https://www.ricoh.sg/events/jumpstart-to-an-agile-workplace